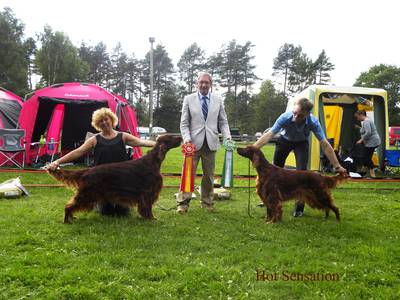 Smålands LO Utställning Söndag 3 Juli, Eksjö BK
Domare: Jeremy Bott, UK Kennel Thendara
BIR Hot Sensation's Joy Of My Life BIM Fairhaven Banchee Barracuda
BIS valp Copper's Sockerkringla
Premie Hane Copper's Magiska Under
Premie Tik Ember A Kind Of Magic
Domarpresentation
My first Irish setter was a male dog by Wendover Gentleman ex. A Marrona bitch. Bought as a pet, in 1972, then, someone convinced me to show him!! That was the start. I then' rescued' a two and a half year old dog , Solana Vagabond , from a family on the island of Guernsey, as he was killing chickens !! He was pure Wendover breeding, by Wendover Royalist and Very typical of his breeding, though he did not come together until he was a veteran. He used to go " walk-about ", at home, if the gates were not closed , as he was used to wandering anywhere, on Guernsey !!
After a brief excursion into English Setters and Pointers, my first significant success came, campaigning Bardonhill Supergrass to his title, in the early 80,s . Further successes followed and when Dee and I got together, with her Thendara Kennel, she had already had success with SH.CH.Bardonhill Sea Breeze over Thendara (Baileigh) and SHCH.Thendara Okay Yaa ( Hubble ), her son, SH.CH. Clonageera Genesis .
T. Okay Yaa mated to Bardonhill Bikini , " Baileigh ",s sister, produced our biggest winner so far, Thendara Kennedy, winner of 12 CC,s and 2 Groups, a great showman and stud dog . He produced many outstanding bitches that bred on . T. The Tourist and T. Don Corleone followed , with " Don " eclipsing " Kennedys " record , as a show dog , winning 21 CC,s, including three in successive years, at Crufts .
Scotselaw Detroit Spinner at Thendara is our latest, becoming the 9th champion, at Thendara.
We have added Afghans to our Kennel, during the last 17 years and we presently have an exciting young brindle girl, who is winning in the show ring. It is also a great pleasure , to have " Mr. Jingles " here , at Thendara, again , until after Crufts. It really is a credit to his wonderful temperament, that he fits in so well with " the pack ". He thinks this is his second home!
To me, the whole essence of showing dogs is to achieve success in the show ring. Breeding follows , trying to advance the qualities , of the breed, (in respect of the breed standard ), in your breeding programme and producing stud dogs , that are admired and will benefit the breed , with their qualities, in their progeny. That is what we have aspired to, over the years. The icing on the cake, is that you are then, invited to judge in your own country and around the world, to give your opinion of other breeders dogs, which is a great honour indeed.
I have been very lucky , to have judged in Holland , Finland, U.S.A. ( Wisconsin ), Slovakia, Austria, Hungary and, of course, Sweden . The first time, was in 1986, in Karlskrona, of which, I still have happy memories. It was a great honour , in 2008 , to judge the male dogs, at Crufts, a show we have been lucky to have won the CC at 8 times with 6 different dogs . It will be a great honour to come to Sweden again, to judge your dogs.
http://www.isfsidan.se/wp-content/uploads/2019/08/isflogo.jpg
0
0
isf
http://www.isfsidan.se/wp-content/uploads/2019/08/isflogo.jpg
isf
2011-07-03 15:40:34
2018-08-21 12:06:22
ISF Småland